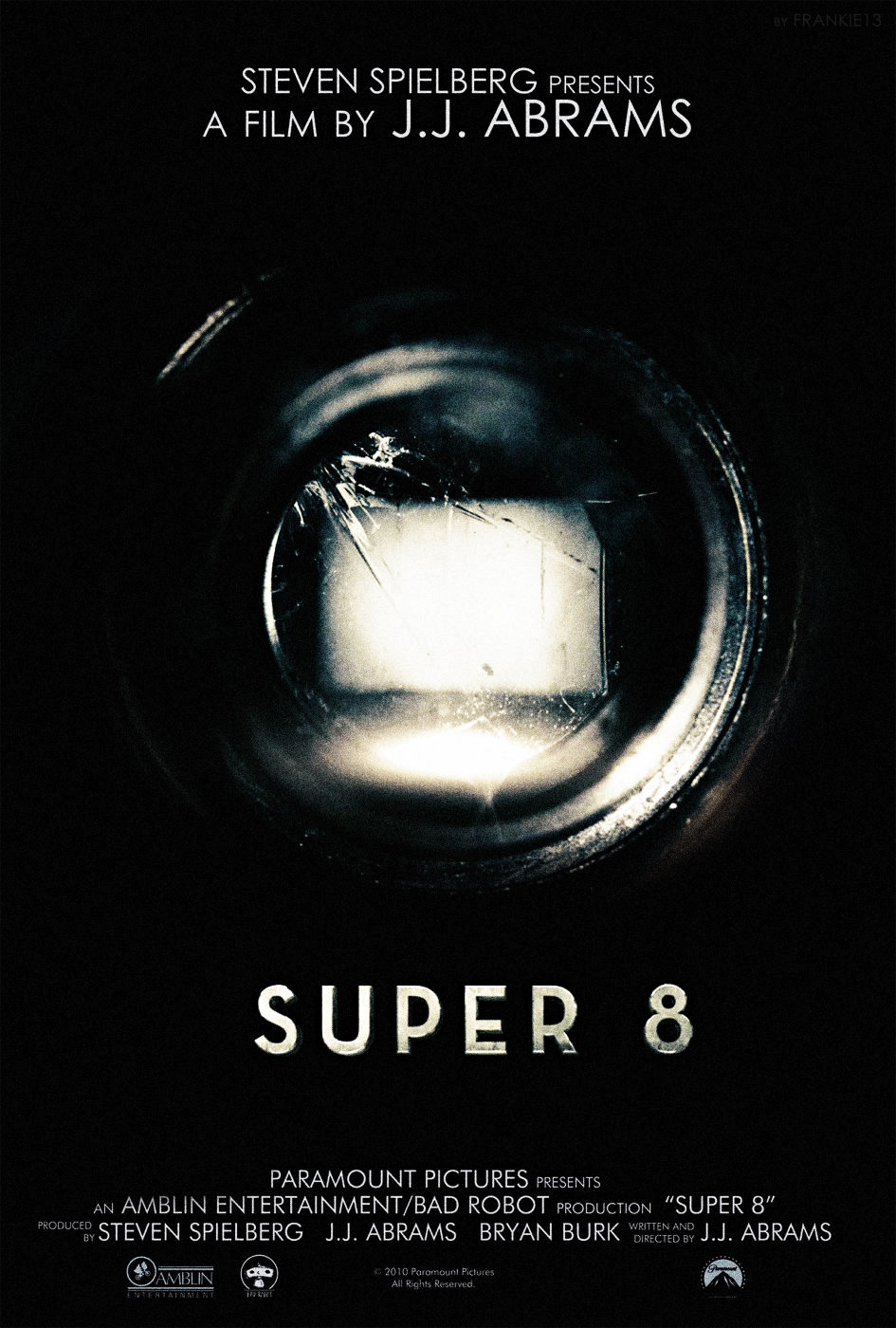 In all honesty can you really go wrong with the pairing of
J.J. Abrams
and
Steven Spielberg
? One gave us some of the greatest movies of all time and the other is an up and coming director trying to make a name for himself. With
Super 8
-- J.J. Abrams did just that!
Super 8 is one of those films that makes you remember what it's like to be a kid again. The spirit of imagination that took place when you were a child was there in full force. That's the way I felt every time I watch a Spielberg flick. Whether it be
Jurassic Park
or
E.T.
, he always puts you in the mindset of a child, reminding you that anything is possible. J.J. Abrams has learned that very same trait from his predecessor and has done so rather nicely with Super 8. The film takes place in 1979 and tells the story of a small town in Ohio where a group of teens are filming a movie, using a
Super 8 film
camera nonetheless. While filming, they witness a massive train crash which is one of the best train crashes I've ever seen in a film by the way, and actually manage to escape scott-free and in the process capture some footage of that very accident. The military quickly takes over and what was once thought of as a simple (for lack of a better word) train derailment immediately escalates into an on-going investigation by the deputy as to why there presence was needed in the first place.
Every great movie needs two things. A great story line and great acting. This movie had both! And a lot of it! J.J. Abrams only has a short resume of films he has directed but with everything he touches, a great idea and a great story line is sure to follow. The mystery of the creature, the intriguing family dynamics between the characters and the overall feel the movie had was all very good. You could see a great director developing before your eyes. At times I felt like Spielberg crawled into the body of Abrams and took the reins as director but in fact it was Abrams coming along as a director and it was an amazing thing to watch. Equally amazing was the performances in the film. You had the likes of
Kyle Chandler
, who is best known for his role on the TV series
Friday Night Lights
, play a central but under-the-radar role as the deputy in Super 8.
Noah Emmerich
played Colonel Nelec in the film and he's been in tons of movies such as
The Truman Show
,
Cop Land
and
Frequency
. And then there's
Glynn Turman
, a tremendous television actor in his own right who's best know for his roles in
A Different World
and
The Wire
. But they all took a backseat to the brilliant acting by the young teenage cast this movie had to offer led by
Riley Griffiths
,
Joel Courtney
and
Elle Fanning
. They honestly stole the show and put on performances that truly out-shined everything else in the film. Including the creature. Performances you will remember for sure! Speaking of -- THE CREATURE!
Now after seeing
Cloverfield
, one could assume that since J.J. Abrams acted as producer for that film, the creatures in both would have some similarities. And I would have to agree! Both creatures features were a lot alike but Super 8's menacing monster was a lot scarier in my opinion. Especially if you see the way it attacked everything, and I mean EVERYTHING that was in it's path. Even the kids. The monster itself is shown throughout the film but teasing you as the movie roles along, not giving away to much until the final build up. A build up in which I have to say matched my expectations in every way. This movie, although it seemed as though it would be all about the creature and figuring out a way to contain it quickly turned into a story about the relationships between the characters and how certain events can alter your opinion of one another. I liked that aspect of the movie because it felt real. That led to a more believable creature and with that unique of a story line, that made for a better overall movie.
Super 8 reminded me that with imagination anything is possible. I know I said that already but it's the truth and once you see this film you will think the exact same thing. Abrams out mystery and adventure back on the market and everything about this movie will send everyone into a feeding frenzy for sure! I wish more film makers would take the simple approach of taking good story and making one hell of a movie out if it! Abrams did that and it made him a better director for it!